Here's how to easily unlock your iOS 10-running device with a single click à la iOS 9
7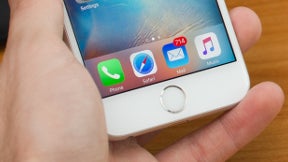 Got iOS 10?
If you own a compatible device, you likely already have received the update, and one of the bigger changes you might notice is the revamped lock screen, which now gives you access to your notification shade and widget pane. However, there's a minor change that could turn out to be a major issue for many users.
See, with iOS 9, all users need to do to unlock their phones was pick them up, press the Home button to wake the device, keep resting their finger on the button WITHOUT pressing it again, and voila, the phone is unlocked and ready to be used. Simple, effective, intuitive.
But what did Apple do with iOS 10? Well, by default, unlocking an iOS device with your fingerprint requires you to first wake up the phone by clicking the home button, then resting your finger on the home button until you see the "Unlocked" message on the status bar.
It's easy to see how this might be mildly infuriating to some, several folks here at PhoneArena included, but luckily, there is a way to opt out of the iOS 10 unlocking method and go with a more traditional, iOS 9-like one, which would save you a click. Here's how to enable the latter: