Here is the difference video stabilization makes: Samsung Galaxy S4 vs Nokia Lumia 920
99+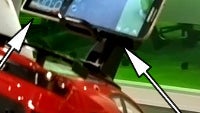 The Samsung Galaxy S4 is already in the hands of many reviewers across the globe and while it touts a plethora of new features including a 5-inch 1080p display fitting in a compact body, a powerful Snapdragon 600 chip and a 13-megapixel camera, its snapper does not feature optical image stabilization (OIS).
How important is that and is it really a deal-breaker? The answer is it depends. If you are particularly keen on recording video while on the move, or want to have great stable night shots, OIS helps a lot.
And now Russian WP7Forum has put the Samsung Galaxy S4 to the test on a radio-controlled toy car. Along it is the Nokia Lumia 920 with its optical image stabilized camera. The car runs on a carpet in an office and that means the ride is very bumpy and a perfect test for OIS.
And while on the Lumia 920, the video appears very smooth, the same cannot be said about the Galaxy S4. Take a look.
source:
WP7Forum