Have an acne problem? Clear it up with your iPhone
This article contains unofficial information.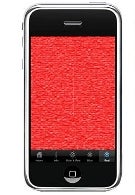 Having a problem with acne? Are people calling you "Pizza face" or worse? The answer is right under that huge blemish on your nose. Yes, your iPhone can help your acne as there is an app that is designed to clear up your face. Dermatologist Dr. Greg Pearson has developed "AcneAPP' that claims to cure acne and even improve wrinkles. For $1.99, the app is supposed to improve your skin while you talk by covering your face with 420 nanometer blue light which is supposed to have antibacterial properties, and 550 nanometer red light which is supposed to work as an anti-inflammatory to help your complexion.
Dr. Pearson told the New York Times that he is fascinated by the idea of clearing your face while talking on the phone. As to how well it works, the Doc says, "This would have to go through a lot more clinical study before I could quantify its efficacy." Another dermatologist suggested that it would take 88 treatments for the app to work, according to her studies. She also fears the amount of harmful ultraviolet rays that would be emitted using the app. Reviewers have been mixed with one calling the app "dumb" while another claims," After three days of using this product my acne is almost completely gone." So the next time you see someone with acne talking on his iPhone, just leave him alone as he might be getting treatment.
Apple iPhone 3GS Specifications
|
Review
source:
NYTIMES
via
HuffingtonPost