Have a dog that must have everything? Meet this pooch with TWO Apple Watch Editions
27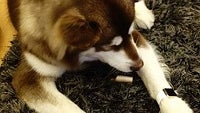 As many of you know, the most expensive version of Apple's smartwatch, the
Apple Watch
Edition, has a starting price tag of $10,000 (in the United States). That number is just about equal to the purchasing-power parity level of the average Chinese citizen, and is four-times the level in other emerging markets in Asia, like Vietnam.
In China, the growth of the economy has provided dramatic growth in wages for many, and it has also made those that run some of the larger companies titans of industry on a global scale.
One of those companies is the world's biggest private property developer, the Dalian Wanda Group whose assets and revenues are well into the billions of dollars. The company was founded by Wang Jianlin in 1988 and he is one of the richest people in the world according to Forbes.
Wang's only son, Sicong, has a pet husky named Keke. He apparently loves this dog so much he decided to buy not one, but two gold Apple Watch Editions, one for each front leg. He opted to not buy Keke four Apple Watch Editions out of concerns it might look too "tuhao" (vulgar nouveau riche). Sicong posted the devices on Keke's legs on Weibo, "I have new watches! There should have been four because of my four long legs…it was decided that I should wear two but no fewer, or it would not fit my status. Do you have one too?"
As Weibo is like Twitter where pretty much everyone can see everything that is posted, quite a few people took issue with the frivolousness of Sicong's purchase expressing jealously (at not having evern one Apple Watch, let alone two) and anger (citing world hunger and "idiots with golden spoons"). The Apple Watch Edition starts at $12,000 in China, giving Keke's two front legs an added value of over $24,000.
From the looks of one of the pictures, the heart-rate monitor can read through dog hair, we already know it has
issues with tattoos
. No word on whether Keke has two Apple iPhones paired to the watches.
via:
The Telegraph