Hands-on with the Nokia 5800 XpressMusic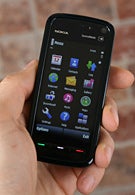 Symbian S60 phone with a touch screen
, the
Nokia 5800 XpressMusic
. We placed the box on the nearest desk and in five seconds the phone was already in our hands. Someone ironically asked where its keyboard was, but we ignored him and pressed the power button impatiently. As we were waiting for the phone to start, we began discussing its dimensions. Most of us found it a bit thick, but when everyone took turn in holding it, the general opinion was that it's actually a very handy phone. We also took the
iPhone
in order to compare it with the 5800 and we noted that the second one was narrower and significantly lighter.
The starting time was very short, about 10 seconds. There were a few icons on the screen, but we were searching for the main menu so we could play a video clip. After all, it has a
3.2-inch widescreen
(16:9 aspect), with a resolution of 640x360 pixels. As we were going through the menus, we noted that in some of them we had to choose an option and then confirm this with a second click, which reminded us of the
BlackBerry Storm
.
Suddenly, we noted that there was something luminous right below the VGA camera for video conversations. We pressed it and an icon bar appeared. The icons provide quick access to the multimedia features and the internet browser. Firstly of course, we ran the video player, chose some of the few available videos and began watching. We liked the image, but the sound of the stereo speakers managed to make us far stronger impression. Some comparisons with the
Nokia N95 8GB
and even with a laptop were made almost instantly. We went forward to the Internet browser to see what the feel to navigate using the sensor display is. When we chose the address bar, the display orientation switched to horizontal and a full
on-screen QWERTY
keyboard appeared. We made quite a lot of mistakes for a first try, but we won't give an opinion now, since it won't be very objective. Navigating through the pages seemed faster than when using navigational keys, and zooming is easier, as it is done by double-tapping. Unfortunately, we didn't manage to play the clips from the mobile version of
YouTube
, but we think that the problem is due to the settings of our Wi-Fi network. We didn't experience such problems when we were playing videos from the dektop version of the popular site.
The Nokia 5800 XpressMusic manages to surprise us for now, but we won't say anything extra. You'll find out more, when we spend some more time with the phone and write a
full review of it
. Then, you'll know our opinion and what its pros and cons are.