Hands-on images of LeEco's powerhouse Le Pro 3 hit the web
12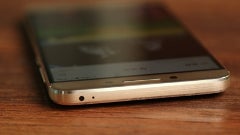 Earlier today, the
LeEco Le Pro 3 was officially introduced
. Apart from the
pre-launch whispers
of 8 GB RAM, most of the touted specs were right on the money, and the Chinese firm has somehow managed to cram a top-end SoC, 6 GB RAM and a 4000+ mAh battery into a 7.5mm-thin, $300 package. For that kind of price, LeEco might have been forgiven if the outer profile wasn't quite up to par with more expensive flagships. Judging by the first batch of hands-on images, though, the LeEco Le Pro 3 plays the role of beauty and beast.
It's understood that LeEco
intends to roll smartphones out to the United States market
later this year, though it remains to be seen whether the Le Pro 3 will be among those on offer. Still, if the company can manage to introduce such powerful, stylish devices on the cheap, Apple, Samsung and the rest may have some cause for concern.