HTC reiterates commitment to Windows Phone, issues strong Q2 revenue guidance on HTC One sales
31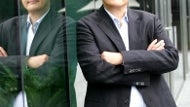 HTC's stock
got upgraded recently by analysts
, but it wasn't because of a stellar last quarter, as today's financial release for Q1 shows, but rather the expectations going forward.
As the unaudited figures hinted last month, today's audited official report lists just $2.88 million net profit on $1.45 billion in revenue. For the current quarter, however, HTC gave much more
optimistic guidance
, thanks to the start of
HTC One
sales, and said revenue is expected to go up 63% to $2.5 billion. Gross margin is expected to hit 22-24%, while operating margin is to get to 1-3%.
As for the state of the industry, CEO Steven Chou had good things to say about the HTC One, unsurprisingly: "
In February our teams set a new standard for smartphones, launching the new HTC One. The reviews of fans and critics alike have been overwhelmingly positive and we look forward to delivering on the promise of this device
...
We are working as hard as possible to meet the demand everywhere
."
Asked about the financial status of the company, Peter Chou said they are fine "
in terms of cash flow
," so no underfunded worries, and confirmed HTC plans to stick with
both Android and Windows Phone
going forward. On the topic of innovation, and copying it thereof, HTC's CEO stated: "
In this industry, everything can be copied. I think there's no point [in] thinking you can prevent this... but whether they would get this original quality -- I think the most important [thing] is that you are first.
"
HTC REPORTS 2013 FIRST-QUARTER RESULTS


TAIPEI, Taiwan – May 2, 2013 – HTC Corporation (the Company, TWSE: 2498), a global leader in mobile innovation and design, today announced consolidated results for the Company and its subsidiaries for the first quarter of 2013.

1Q 2013 Results
HTC posted quarterly revenue of NT$42.8 billion, with gross margin of 20.3% and operating margin of .1%. Net profit and EPS were NT$85 million and NT$.10, respectively.

"This was a pivotal quarter for HTC," said Peter Chou, CEO of HTC. "In February our teams set a new standard for smartphones, launching the new HTC One. The reviews of fans and critics alike have been overwhelmingly positive and we look forward to delivering on the promise of this device."

HTC's designs were lauded by the media, and received prestigious awards in Q1. The new HTC One was awarded the GSMA's "The Best Mobile Handset, Device, or Tablet." It was also awarded Tech Radar's "MWC's Best Phone" and "Best in Show" and Mobile Geeks' "Best Smartphone." The Windows Phone 8X by HTC was also honored with the prestigious "red dot award: product design 2013®" award. The new HTC One was also well received by mobile operators in markets around the world, in addition to consumers.

2Q 2013 Outlook
The Company's outlook for the second quarter of 2013 is as follows:

2Q revenue is expected to be around NT$70 billion
Gross profit margin expected to be 22-24%
Operating margin expected to be 1-3%
1Q 2013 Conference Call and Webcast
HTC will host its quarterly conference call in English beginning at 3 p.m. (Taiwan Time, GMT+8), on 2nd May, 2013. The conference call will be webcast live with audio and slides at: http://www.media-server.com/m/p/dnfr6wwj.

About HTC
Founded in 1997, HTC Corporation (HTC) is the creator of many award-winning mobile devices and industry firsts. By putting people at the center of everything it does, HTC pushes the boundaries of design and technology to create innovative and personal experiences for consumers around the globe. HTC's portfolio includes smartphones and tablets powered by HTC Sense™, a multilayered graphical user interface that vastly improves user experience. HTC is listed on the Taiwan Stock Exchange (TWSE: 2498). For more information, please visit www.htc.com