HTC loves its profits, won't make low-cost phones
24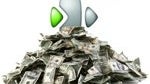 Many sources have been putting out rumors and asking HTC to start building some low-cost smartphones instead of focusing on the premium smartphone market, but HTC has decided it prefers having big profit margins. Of course, being a company, HTC couldn't really phrase it that way.
HTC has consistently been putting up huge numbers over the last couple years, propelled mostly from its premium Android handsets. HTC reported
$625 million in profits
in Q3 of this year, and took over as the
number one shipper of smartphones
in the States. In commenting on the possibility of low-cost handsets, HTC actually took an excuse from the Apple playbook and said that it "will not compromise user experience with our HTC Sense software" and it doesn't want to make "low-quality products".
We're not really sure that low-quality is the same as low-cost, but it's a perfectly respectable response. Some companies want to be known for quality products, and in the tech world, that often means more expensive products. For HTC, that means instead of making devices for under $100, it will make devices that will fall into the $200-250 range.