HTC disputes IPCom's right to an injunction on current smartphones
4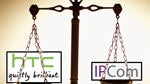 Despite having
withdrawn its appeal
in a German patent case,
HTC is claiming on several grounds that patent-holding firm IPCom does not have the right to impose an import ban on its current product line
.
HTC cites a previous court's ruling, claiming that the "relevant" part of the patent is invalid. That's a tough pill to swallow, as HTC spent the better part of the last year fighting this case, despite the previous court's finding; it seems unlikely that HTC believed that the earlier case made this one "irrelevant" and then proceeded to put spend another year of legal bills to try and defeat it.
HTC may also realize this, as they offered two additional reasons why an injunction won't apply to current products: HTC says the original lawsuit only applied to a single phone (which is no longer sold), and that they've engineered around the patent, no longer including it in their current phones.
HTC is unlikely to win on the grounds that the lawsuit only covered one phone – German courts generally extend valid patent claims to all offending products, not just the ones named in the original lawsuit. So
it seems that HTC's holiday season will have to live or die based on whether they can show they have worked around the patent in question
. The patent has been declared essential to UMTS 3G standards, so it's not clear how they could work around it, but if HTC can convince the court that they have avoided IPCom's patent in their current products, then the court may suspend the injunction until HTC can make its case. That would at least spare holiday sales.
Naturally IPCom disputes HTC's claims. Rather than a long-term legal strategy, this may be a maneuver designed to reduce IPCom's leverage over HTC. If IPCom can ban their products in Germany right now then HTC will have little choice but to license the patent in order to resolve the case. If they can suspend the injunction for several months, HTC will buy itself some time to try and negotiate more favorable terms from IPCom.
Only one thing seems sure: one of these companies won't have a Merry Christmas.
sources:
The Register
&
FOSS Patents