HTC chief executive: "The worst has probably passed"
35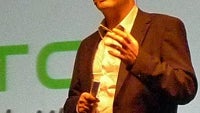 After enjoying a moment in the spotlight as the Android success story in 2010 and early 2011, shares of HTC have plummeted to a six-year low, down 80% from the 2010 peak, but according to the company's chief executive Peter Chou the worst time is over and the company is looking to a brighter 2013.
"

The worst for HTC has probably passed. 2013 will not be too bad.

Our competitors were too strong and very resourceful, pouring in lots of money into marketing. We haven't done enough on the marketing front. Although we don't have as much money to counter [Samsung and Apple], the most important thing is to have unique products that appeal to consumers,"
Chou said.
HTC has not yet unveiled new products, but is expected to overhaul its lineup at either CES or MWC. Next Monday, HTC will release its preliminary fourth quarter results and at the end of the month it will announce final results and guidance for the forthcoming quarters.
HTC is making some important advances in key markets. It has focused on China, a move that brought it bigger sales in the biggest phone market in the world. In Q3, HTC sold 2.8 million smartphones in China, more than Apple sold iPhones there.
Additionally, the company is trying to bring life to its marketing department, and the ended dispute with Apple over patents is also a positive thing.
"One thing I'd learned from last year is to act fast and be responsive to market changes,"
Mr. Chou added.
"We are being more flexible now. We are constantly fine-tuning our sales plans and position in various markets."

Let's see how this works out in 2013.
source:
Wall Street Journal