HTC's blockchain smartphone set for October 22 announcement, see the new teaser
4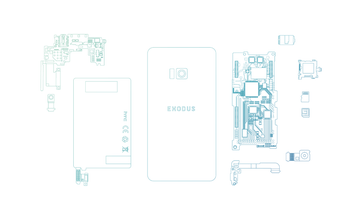 HTC might be
struggling financially
, but that hasn't stopped it from looking into new avenues for growth. One interesting direction that the company has steered into is a decision to create a blockchain-enabled smartphone called Exodus.
At this point one has to wonder what's so special about a blockchain smartphone, but fortunately, the answer to that question will come rather soon. HTC has recently revealed that the announcement event for the Exodus model will be held on October 22, less than 10 days from now. The manufacturer disclosed the news via a brand new Instagram page created specifically for the upcoming device. You can check out the teaser below.
Since the teaser doesn't really give us much information about the device itself, here's what we know about Exodus from HTC project lead Phil Chen. The crypto phone will basically serve as a very safe hardware wallet for cryptocurrencies like Bitcoin and Ethereum.
The phone's software will be based on Android, but with added security protocols and apps meant to handle the necessary encryption for safe handling of the precious coins. Chen has stated the the phone will cost around $1,000, so we're quite curious to see if it will attract consumers.