HTC Touch.B is NOT Android but is BrewMP powered phone
7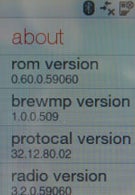 Yesterday, MobiFrance showed us some pictures which we
passed on
to you. The photos appeared to show an Android powered model that looked like a typical HTC Windows Mobile device. That started the juices flowing when talk turned to the HTC Passion. MobiFrance promised us more info today, and they gave it to us.
The OS on the Touch.B is not Android. It is Qualcomm's BrewMP (for mobile platform). BrewMP is "a freely available mobile OS platform. It's an open, easy to use version of Brew and is scalable across all tiers of
mobile devices
to get powerful
applications
onto mass market devices." The ROM shows that the BrewMP is in Alpha and there is a simple TouchFlo type UI. Everything is very basic so far. There is no video player installed at the moment. There is no Wi-Fi, but there is support for 3G connectivity, Bluetooth. and Adobe Flash. So while we do have some new information, there are still many unanswered questions about the Touch.B/Rome that hopefully we will find out about soon. The little we have heard and seen so far shows some promise.
source:
MobiFrance
(translated) via
HTC-Phones