HTC One Max and Sense 5.5 logs hint you can launch apps with your fingerprints
14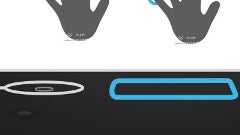 By now everyone and their pet iguana is aware that HTC's first phablet is to come with a touch fingerprint scanner on the back. The mystery is how exactly HTC will leverage this first for Android fingerprint sensor of new generation.

Is it going to be used like Apple's
Touch ID
only to unlock the screen and authorize iTunes purchases? Will it sport additional features Well, judging from a leaked log from the
One Max
, the scanner can quick start different apps when touched with the tip of your digit.
If we tie this info with the
fingerprint app or manual iconography
that leaked today, not only your index finger or thumb, but all digits can be assigned to it, hinting that we might be able to program each finger to launch a different app directly - from your secret video stash, to the music player, for a total of ten, if you
don't count your toes or cat paws
.