Apple calms Touch ID privacy concerns again, says chicken wings and fingerprinting don't mix
81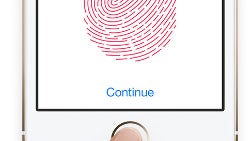 Apple took some time after the official keynote presentation on several occasions to clarify the way it is sandboxing your fingerprints that the new Touch ID sensor uses to unlock the
iPhone 5s
, or authenticate Apple Store, iBooks or iTunes purchases.
We likely have Edward Snowden and overzealous NSA budget allocations to blame for the question on everyone's minds the second they heard fingerprint scanner, or for the usually silent Apple's lengthy explanation on the matter.
Apple reconfirmed for the WSJ that your fingerprint scans get stored in the processor, sandboxed in the phone itself, and never reach Apple's servers or iCloud in any way. Moreover, for now this new and effortless method of biometric authentication is indeed
off-limits for all 3rd party developers
, even the grand names.
In addition, you have to build one more security layer to complement the fingerprint identification method - a good old password will be asked of you if the phone is rebooted, or hasn't been unlocked for two days, in order to stall any time-sensitive tactics by a thief or a hacker. Your finger won't work then, only after the password has been entered you will be able to press your thumb against the home key and unlock the iPhone 5s.
The fingerprint unlock won't work properly also if you have your fingers sweaty, greasy, or have scars and cuts, added Apple, based on numerous testing scenarios it did with the Touch ID scanner, so just use a dry digit with uninterrupted fingerprint. Since the print is encrypted on the phone itself, the NSA also can't send one of those sneaky letters to Apple requesting his or hers fingerprints either, it seems, which is a relief this day and age.