HTC HD2 T-Mobile U.S.A. bound according to leaked ROM
This article contains unofficial information.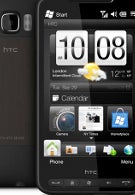 With all of the Android noise in the U.S., the Windows Mobile powered HTC HD2 has gone on with its life, quietly plugging away overseas as what many call the best Windows Mobile phone ever. Having dumped the .nbh files themselves from a leaked ROM that is still being tested, WMExperts has come to the conclusion that the HTC HD2 is coming to the U.S., specifically, to T-Mobile. They also were able to draw up a list of specs that includes LEo ROM 2.01, up sharply from the leaked 1.61 build, Windows Mobile 6.5 build 21869, Opera 9.7 35627, Teeter 2.0 which is a new version, TMOUS_Manila_Core 2.5.1921401, and OzIM_US_1.0.
5.1
.139.
So it looks like one of the most anticipated devices will be coming to the U.S. at last, with the a very necessary subsidy, through T-Mobile. As with the DROID, the HD2 has been called a very legitimate challenger to the iPhone and while the Android invasion in the U.S. has taken some of the excitement from this device, we have no doubt that once American cellphone fans see the 4.3 inch capacitve touch screen with their own eyes, and feel the slim build while watching the speed of the Snapdragon 1GHz processor, the HTC HD2 will again vault to the superstar status where only a few other handsets reside. As for the carrier, the phone could be a major prize for T-Mobile , especially with the proper marketing. For if we have learned one thing about the success of the DROID on Verizon, and the lack of it with the Pre and the Pixi on Sprint, too clever avant-garde ads are a turn off to potential smartphone buyers and that in your face marketing seems to attract the deep pocketed smartphone buyers who will pay up for what they perceive to be the best device available, with all the features they could ever use. As for when we might see the HD2 ready for U.S. buyers, WMExperts says to expect a launch in March 2010. No word yet on pricing.
HTC HD2 Specifications
|
Review
source:
WMExperts