HTC HD Mini gets FCC approval with support for AT&T's 3G band
This article contains unofficial information.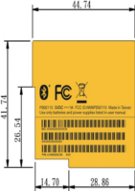 Even though a trio of the latest HTCdevices were all intended to be made available in Europe first, we'veslowly begun to see some of those handsets make it to our shores –in some way or another. As we've seen the surprising huge demand forthe HTC HD2 for T-Mobile, the HTC HD Mini may be coming to NorthAmerica sooner than later. It was recently seen over at the FCC with itsID label which means that some kind of variant will support NorthAmerican 3G bands – as of right now, it looks as though AT&Tmight be a prime candidate. Moreover, it could potentially becomeavailable as an unlocked unit to offer the many customers in NorthAmerica a chance to check out the slim Windows Mobile smartphone. Aswe've seen AT&T hastily drop the price of the HTC Pure to almost free over the course of the last month, it may signal to somethingmore as there is no shortage of people looking for the HTC HD2 forT-Mobile – so it might be an incentive for AT&T to attract thesame crowd with the HTC HD Mini.
HTC HD Mini Specifications | Review