HTC EVO 4G LTE unboxing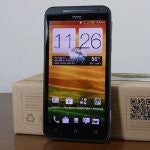 Here we go people! Last year, the HTC EVO 3D managed to bring the whole 3D craze to Sprint, but as we've seen, it didn't have quite the same profound impact that was found with the HTC EVO 4G – maybe because of the novelty surrounding it. Whatever the case, a true successor is on horizon in the form of the
HTC EVO 4G LTE
. Although it retains most of the original's name, the LTE moniker has been attached to the end, thus, giving customers something to look forward to.
By now, we're all too aware about Sprint's initiative to be a green-friendly company, which made evident by the abundant eco-friendly devices we've seen them put out in the past. At heart, the HTC EVO 4G LTE is clearly a smartphone that's not rocking out to some kind of recycled casing, much like some of the other offering's on Sprint's lineup, but its packaging is undoubtedly following those initiatives set forth by the Now Network. Normally, people are attracted to clean and masterful looking packages with today's top shelf smartphones, but with this, it's
simplistic while being conscious about the environment
– so yeah, we have to hand it to Sprint for that.
Inside, the first thing we're greeted to is the handset in question, which has a sticker on it mentioning
Location Privacy and distracted driving
. Again, they simply continue to show off Sprint's promises and pledges with its devices. As for the included goodies, they consist of the normal set of stuff we're consistently used to seeing – such as a
microUSB cable, wall charger, and documentation
. Needless to say, we could always use more than the typical stuff, but hey, it's simply the norm at this point.
We won't go into detail about the actual device, since you know, we've had a
good time with it at Sprint's event in New York City
. However, we were somewhat skeptical about the mashup design of the HTC EVO 4G LTE, as opposed to the pristine white looks of the HTC One X, but we have to admit, it's growing on us. For Sprint customers, they're getting a top-notch smartphone, especially when it's equipped to surf the web via
4G LTE speeds
– albeit, we're still waiting for those networks to start popping up around the country. All in all, we're excited about this new EVO branded device, so expect our in-depth review soon!