HTC EVO 4G LTE hands-on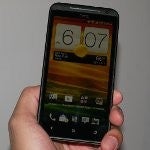 Well, well, the REAL successor to the original HTC EVO 4G is finally here, and boy does it make a big splash for the Now Network. All talk has been around this
variant of the HTC One X
of late, but now that it's been
officially unveiled to the public
, it's sure to continue the poplar Android family's legacy. Donning an additional moniker to its name, the
HTC EVO 4G LTE
is slated to land on Sprint's lineup sometime in the 2nd quarter for the customary 2-year contract price of
$199.99
. And if you intend on buying this one either way, you can actually nab a pre-order starting on May 7th.
So what can we say about this beautiful beast of an Android smartphone? Well, it doesn't falter in the design department as we're amazed by its
solid build quality
. For something employing so many top-notch materials, it still boggles us that they somehow managed to maintain such a
skinny frame
– like seriously, it's ridiculously skinny for a handset packing a 4.7" 720p display. And look at that gorgeous screen, as it radiates in almost every angle with enough blinding clarity to light up a room. As a whole, though, there weren't as many surprises with its hardware, especially since it packs nearly all the same internals as the HTC One X.
However, since it's packing support for Sprint's up and coming 4G LTE network, it chooses to side with a
1.5GHz dual-core Qualcomm Snapdragon S4 processor
. Well, it's no quad-core, unfortunately, but it doesn't matter much since it's lighting fast with all of its operation. Somewhat a stark surprise to all of us, the handset is actually packing a
2,000 mAh battery
– as opposed to the
higher capacity one it was rumored to offer
. Despite that realization, we're more attracted to the fact that it's one super skinny smartphone.
As for the other goodies, it's worth mentioning that it features an 8-megapixel auto-focus camera, Beats Audio support, and
HD Voice
. What's that you say? As its name implies, the HTC EVO 4G LTE will be the first device on the market to offer HD Voice via Sprint's network – thus, providing superior calling quality thanks to a host of technologies both on the phone and network side. In fact, we managed to check it out while at the event, and honestly, it does cut down on the background noise. Regrettably, Sprint's LTE network isn't live yet in the Big Apple, so we're naturally curious to find out how it performs.
All in all, the HTC EVO 4G LTE is shaping out to be yet another wonderful offering worthy enough to follow in the same footsteps as its predecessor. Right now, the only thing we have to do is wait for an official launch date. Let's hope that it arrives sooner as opposed to later.