HTC EVO 4G LTE benchmark tests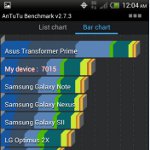 After playing around with
AT&T's version of the HTC One X
, we're already expecting some wonderful and immaculate benchmark results with the forthcoming
HTC EVO 4G LTE
for Sprint. Nearly packing the same hardware in the inside, there's no arguing the kind of raw processing power it's capable of producing out of the box with its dual-core 1.5GHz Qualcomm Snapdragon S4 processor with 1GB of RAM, but nevertheless, we're curious to know for sure what it's all about.
So even before diving straight into our usual benchmark routine, we're happy to report that Sprint's beauty performs admirably with most operations out of the box. Therefore, whether it's a static or live wallpaper, the HTC EVO 4G LTE is able to
maintain a responsive rate every single time
– with barely any evidence of slowdown or choppiness. Heck, even some of its graphically intensive animations maintain such a feverish rate of operation.
After running the
Quadrant
benchmark three times, we're able to come up with an average score of
5040
, which is slightly better than the 4958 mark produced by AT&T's HTC One X. Next up, the
AnTutu benchmark
tests gave us an average score of
6997
. And again, its score is better than the 6863 average result we got out of AT&T's version. And lastly, there's the
Nenamark2
test yielding a tally of
59.1 frames per second
. Indeed, the numbers might shine over the HTC One X for AT&T, but they're not remarkably higher. Still, it's comforting to know that this is going to be equipped in handling even the most demanding users out there.