HTC DROID DNA gets its Android 4.4.2 update along with Sense 5.5
11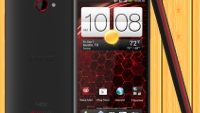 The
HTC DROID DNA
has
started to receive its update to Android 4.4.2 and Sense 5.5
. If you haven't received the OTA notification yet, you can go to Settings and check for the update manually. So what new features will the HTC DROID DNA get? BlinkFeed will have some changes making it faster to find search and content sources, which you can access by swiping from the left side of the screen. Additionally, if you don't like BlinkFeed and want to turn it off, all you need to do is perform a pinch-in gesture on the home screen, go to Settings, and select either BlinkFeed ON or BlinkFeed OFF.
Location Settings have been changed, with a master switch that can turn all of them off at one time. The page has been changed to save battery life and you can see the estimated battery use of each app. You can also see a list of which apps are using location services. The Gallery has been redesigned to make it easier to view content by configuration. Panels have been added to replace drop down menus, and a simple swipe to the left or right lets you see photos, videos and other categories. The update also makes it easier to get to your photos from the cloud or social networks.
The update now brings three distinct location profiles. High Accuracy is the best for figuring out where you are, although it uses the most battery life. Battery Savings uses the least amount of battery life, but is less accurate. You can also choose to use the sensors on the DROID DNA (GPS only).
A new Do Not Disturb feature lets you make sure that your phone doesn't ring at the most inopportune time. You can arrange for your phone to stop sound, vibration and LED notifications. To see this feature go to
Settings
>
Sound
>
Do Not Disturb
. Adding widgets to the lock screen has been made easier, thanks to the update. Simply swipe left from the lock screen to choose a widget. The music application now has panels to choose between artists and albums, replacing the drop down menus. All you need to do is to swipe left or right. And notification icons are now all white.
The Android 4.4.2 update for the DROID DNA will take five to eight minutes to download, and eight to ten minutes to install. Make sure your batteries are at least 50% charged, and you should be on a Wi-Fi network when you're ready to update your device.
source:
Verizon