HTC CEO Peter Chou talks shop
3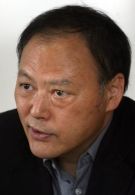 HTC CEO
Peter Chou
sat down with
The Seattle Times
to talk about their devices and the future of the industry as a whole. As the interview began, it became clear that Chou takes his work very seriously; he had HTC's
DROID Incredible
,
EVO 4G
,
Aria
, and the new
T-Mobile G2
in his pockets.
He explained: "I'm testing all of our devices to make sure that our devices are having a good experience and are mature and stable." That's exactly the kind of commitment we're looking for from all our CEOs, though he might benefit from a waist-pack.
The interviewer asked Chou about the G2's brushed metal design, and potential
Antennagate
-like consequences. Chou reassures us (and jabs Apple), saying "We can't complain that the antennae is so complicated that 'user, you have to compromise a little bit.' You can't say that. It is our responsibility, our profession, and our expertise to take care of whatever the user scenario."
Chou, like many of us, is excited at the prospects of
Windows Phone 7
: "They put tremendous focus, effort on this design. I'm very excited about this brand-new experience." The interviewer asked if there might be customizations on WP7 devices like
HTC Sense
. Chou replied that they will leave the experience alone in the beginning, and slowly roll out their own improvements.
As to the future of smartphones, Chou had this to say: "I believe the mobile Internet experience will continue to optimize and innovate...we are in a threshold point where all kinds of industries can use smartphones - for education, or health care or energy - so this can be a very important product for people in the future."
source:
The Seattle Times