HTC Amaze 4G unboxing and hands-on
14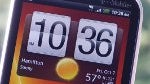 As if the HTC Sensation 4G and T-Mobile myTouch 4G Slide weren't enough for the carrier, HTC is coming back yet again in full force with its latest high-end offering with the
all-encompassing HTC Amaze 4G
. Expected to land in-stores starting on
October 12th
for the 2-year contract price of
$259.99
, it seemingly combines the best aspects of HTC's previous offerings as it rolls them into one action packed device. However, its higher than normal price tag just might turn away some people – especially when $200 priced high-end devices have spoiled us.
Packaging wise, it simply retains the elements found in use with other respectable handsets with the carrier, so it doesn't deviate a bit from the typical trodden path traversed by others. In addition to finding an image of the handset on the front of the box, we're given a clear-cut look at the handset's rear side, where its
8-megapixel auto-focus camera
is prominently featured. Meanwhile, there's some specifications and notable highlights found in the rear – though, there's a good chunk dedicated solely to its
AMAZING
camera capabilities. Inside, there's nothing out of the ordinary as we're given the usual set of documentation, microUSB cable, and wall charger. However, for something priced higher than normal, one would easily imagine being treated to so much more – alas, we'll accept it, as we're all too familiar with the process by now.
Unmistakably, the HTC Amaze 4G employs that
charismatic industrial design
that we're so fond to see with many of HTC's stable. Just like the HTC Sensation 4G before it, it exudes a
premium build
with its construction thanks to its sturdy brushed aluminum casing, which is complemented by the soft touch patches separating the metallic casing. However, mainly due to its choice of premium materials, it definitely makes the handset extremely
weighty
– even more when the battery is inserted. Despite that, there's no denying that it's one solidly built handset that makes us appreciate its attention to detail.
Turning it one, we're mesmerized by its
gorgeous 4.3" qHD Super LCD display
as it packs plenty of crisp details and luscious looking colors – and surprisingly enough, it comes close to rivaling Super AMOLED Plus in terms of vividness. There isn't much feel to either the dedicated power button and volume rocker, but what's nice is that we find two dedicated buttons that quickly gets us into shooting photos and videos. So far, its
1.5GHz dual-core Qualcomm Snapdragon S3 processor
with 1GB of RAM is able to handle the Sense 3.0 experience running on top of Android 2.3 Gingerbread.
Above all, we're curious to see how it fares with taking photos – especially when it seems to be the handset's primary focus. With backside illumination, you know that it's not messing around when it comes to shooting images in almost any condition. In any event, expect our in-depth review soon!