HTC 10 is official: SD 820, 4GB RAM, and a rather compelling camera setup in tow
99+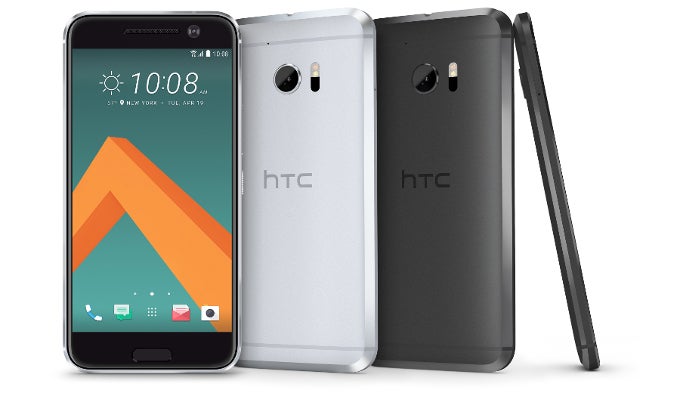 After a cavalcade of leaks and hearsay, HTC announced its anticipated flagship smartphone for 2016, the
HTC 10
. Undoubtedly, it has all the potential to atone for HTC's not-so-exciting previous top-shelf phones. At least on paper, the HTC 10 looks like it might just deliver.
So, what does the HTC 10 bring to the table? First of all, we have a rather major name change: it's called the HTC 10, unlike HTC's former champs, which boasted the "One" lineup designation, followed by "M". While it might be a bit confusing for HTC die-hards, we welcome the change. It's also a good marketing move on HTC's end.

TL;DR:
Here are the specs of the HTC 10 at a glance:
5.2" Quad HD Super LCD 5 display
Qualcomm Snapdragon 820 chipset for USA / different Qualcomm chipsets elsewhere
4GB RAM
32/64GB storage options. microSD card slot (up to 2TB)
12MP UltraPixel 2 rear camera with 1.55um pixels and

f/1.8

aperture, OIS, laser autofocus, RAW, 4K video recording, Pro camera mode, hyperlapse
5MP front-facing camera with ultra-wide lens, OIS, 1.34um pixels and

f/1.8

aperture
Two BoomSound speakers with Dolby Audio, woofer + tweeter, 3 noise-cancelling mics
3,000mAh battery
HTC Sense 8 UI atop Android 6.0 Marshmallow
Fingerprint sensor, USB Type-C
Color options: Carbon Grey, Glacier Silver, Topaz Gold, Camellia Red
Design: glass up front, chamfered metal at the back
Moving on to the design, it seems the rumor mill was spot-on correct. We have a front glass panel that gently slopes to the side frame, which gradually transitions to an appealing chamfered edge at the rear. We can't attest to whether it will feel comfortable in the hand, but we hope it does. It seems the build of the phone is quite sturdy: HTC claims the flagship has been subjected to some pretty extensive durability and temperature tests to ensure that it will be a resilient handset.
Now, it seems that the signature Boomsound speakers are going nowhere, but unfortunately, they are no longer stereo ones. Alas! We have two speakers on board, with a woofer at the bottom that is delivers lower frequencies and a tweeter at the top that conveys the rest of the audio spectrum.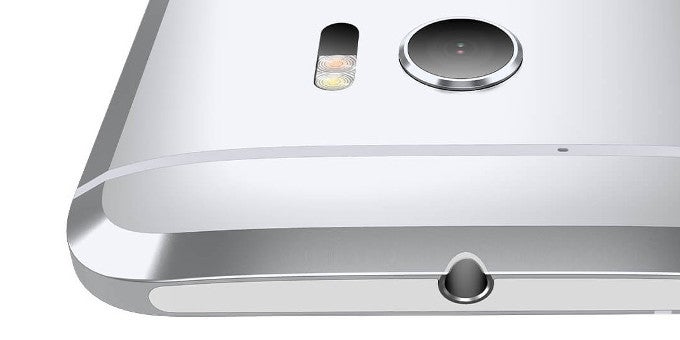 That's not all, though! Audiophiles, gather around: looks like the HTC 10 arrives with an improved headphone amp, capable of delivering twice the output of a conventional amp, as well as upscale 16-bit audio to 24-bit. A high-quality DAC has also made the cut.
The fingerprint reader embedded in the physical home button à la Samsung is reportedly capable of unlocking the phone in 0.2 s after a successful fingerprint has been input. HTC claims the scanner is an adaptive one, meaning that it will get faster the more you use it.
The 3,000mAh battery at the back seemingly arrives with Qualcomm's Quick Charge 3.0 fast charging. HTC 10 users will be able to get roughly 50% of battery juice after a 30-minute charge session.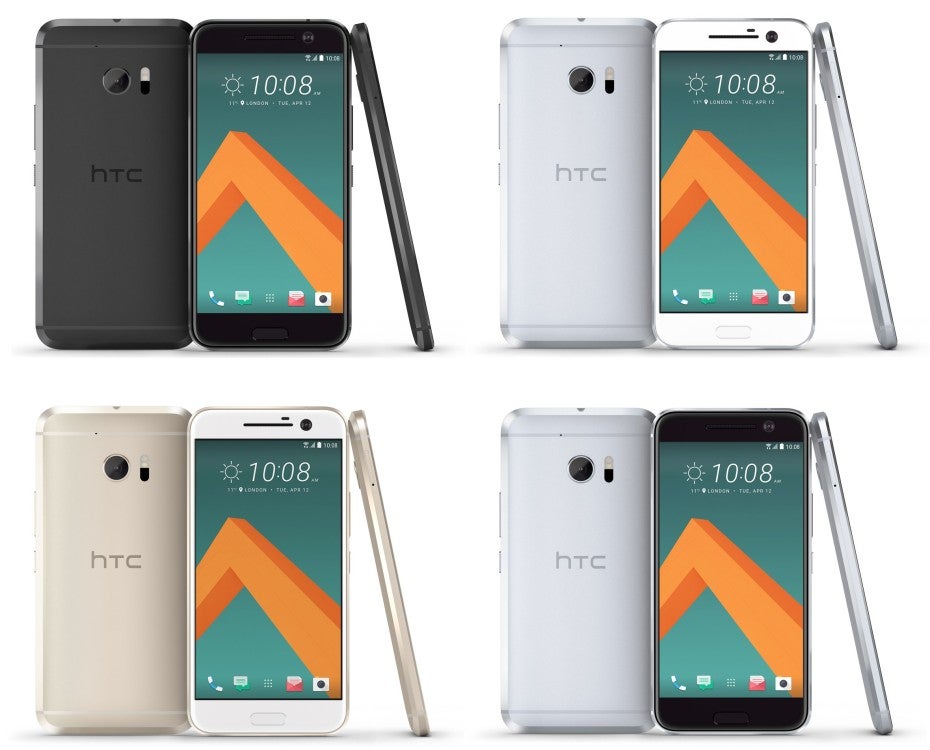 Hardware: no compromise, at least in the USA
No surprises here - the HTC 10 is powered by Qualcomm's finest chip at the moment, the Snapdragon 820. We have known this for a while, as even Qualcomm recently bragged that HTC has embraced the top-end silicon. The 64-bit quad-core chipset is ticking at 2.2GHz developed in collaboration with Samsung and relies on a 14nm manufacturing process. The Qualcomm Snapdragon 820 is already performing pretty great in devices like the Galaxy S7 and LG G5, and according to some hearsay, the HTC 10 might be surpassing these two. We can't wait to put it to the test.
What is surprising is that only the good ol' US of A will be getting the Snapdragon 820 chipset. Emerging markets and undisclosed other markets will have to be content with a lower-end Qualcomm chipset.
Memory-wise, we have the ample amount of 4GB of RAM aboard, which is already a standard for the high-end Android crop. In terms of available storage, the 10 arrives in two flavors - 32GB in the basic version and 64GB in the top-end one. That's more than welcome, though we are a bit saddened by the lack of a 128GB model.
Worry not, there's also a microSD card slot on board, which is compatible with all microSD cards up to 2TB in size. Sorry, owners of 3TB microSD cards!
Camera: third time's a charm?
And now, the camera. This has been the most often-criticized component in HTC's flagships for the past two years, but it looks like the third time (or fourth, if you consider the One M7 a failure) might be a charm. In order to prepare for the arduous task, HTC put a 12MP second-gen UltraPixel sensor at the back of the 10. It comes with a rather large f/1.8 aperture and 1.55um pixels, which hints at potentially strong low-light game. There's optical image stabilization, laser autofocus, and a slew of intriguing camera features.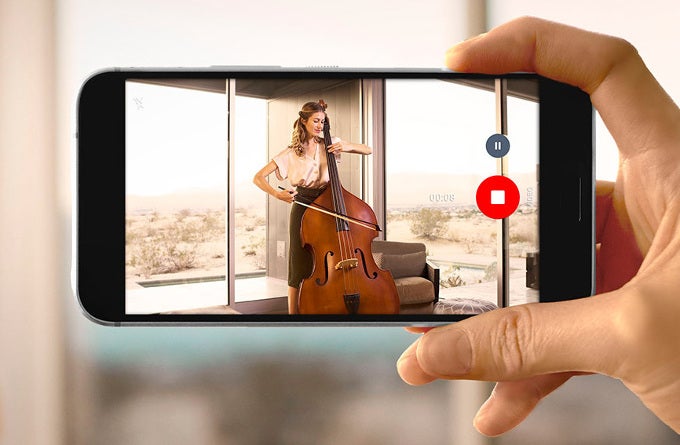 The most interesting among these is Pro mode, which will most likely end up being manual camera controls; additionally, there seems to be hyperlapse, 4K video recording, Auto HDR, 12X slow-mo video capture (whatever that means), and Zoe Capture, which is similar to Apple's Live Photos and Samsung's Motion Photo though predates both. RAW photo capture has also made the cut.
Up front, there seems to be a 5MP wide-angle selfie camera with 1.34um pixels, large
f/1.8
aperture, and optical image stabilization. Nifty!
Sense 8 UI: customized Android 6.0 Marhsmallow, sans clutter
The HTC 10 arrives with HTC Sense 8 UI, which is based on Android 6.0 Marshmallow. Now, what is exciting here is that HTC has decided to ditch some of its own apps and wholeheartedly embrace Google's alternatives, thus eliminating the clutter. This means you won't get two calendar apps, three messaging apps, or a couple of galleries. That's commendable!
The new user interface arrives with a rather itneresting feature on board - just as we reported a few days ago, Sense UI sports Freestyle layouts, which enables users to customize their home screens to great extents. For example, users are not confined to the usual app grid - apps, widgets, and stickers can be freely moved around and customized. What's more, apps can be opened by tapping on stickers, allowing HTC 10 owners to clean up the clutter and create unique home screen setups.
Oh, and worry not, theme support is still here!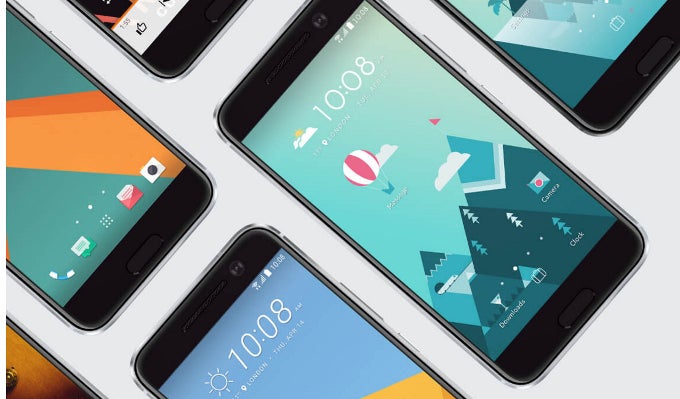 Price and availability
It seems that HTC 10 will cost $699 at launch and be available on Verizon, Sprint, and T-Mobile. An unlocked variant available in Glacier Silver and Carbon Gray will be up for grabs from
HTC's offical website
. Pre-orders are starting today, April 12, with units shipping in early May.