HP responds to Apple: "the first computing product needed for homework is a PC"
26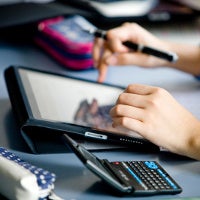 Yesterday,
Apple unveiled the new iPad
and it matched most of our expectations and a big chunk of our hopes with better screen, processor and cameras, but does this make it a PC replacement?
Apple CEO Tim Cook backed such an assumption with some impressive sales numbers, quoting iPad sales of 15.4 million in the last quarter, which is more that the 15.1 million PCs the largest vendor HP sold in the same period.
Hewlett-Packard now responded by saying that tablets are "terrific complementary devices," but PCs remain necessary.
"PCs remain key tools for everything from video editing, music mixing, and spreadsheet crunching to thoughtful missives. And if you're sending Junior off to college, the first computing product needed for homework is a PC," James Mouton, HP's personal computer global business unit general manager, said.
The sales numbers tell a slightly different story, though. Tablet sales grew the astounding 274.2% to 63.2 million in 2011, while desktop PC sales only increased marginally by
2.3
% to 112.4 million units and notebooks grew in the single digits as well - 7.5% to 209.6 million units.
Most analysts also agree that tablets will soon outsell PCs. Horace Dediu from Asymco for ones says this could happen as soon as fall 2013.
"While the way people interact with information has changed, when the task at hand is content creation, business productivity or immersive gaming, to name a few, a PC is fundamental," Mouton brought a counter-argument. " Fortune 1,000 companies and governments rely on PCs for their infrastructure backbone and security."
Which side do you take here - will tablets outsell PCs or not?