HP is considering dropping the Palm name
4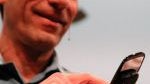 Since
HP
acquired Palm earlier this year, there has been much speculation about what kind of changes we would see in the Palm brand. Loyal Palm fans were pleased to see the
Pre 2
come out, and are looking forward to Palm's upcoming range of devices. But what about the name?
Former Palm CEO
Jon Rubinstein
spoke at D: Dive Into Mobile about the Palm name. When an audience member told him they should drop the name, he said "Okay...I don't really have much connection to the Palm brand." That's obviously a joke, but Rubinstein went on to confirm the possible name change: "That's something we're debating."
Rebranding their devices would be a difficult task, but definitely possible with a giant owner like HP: "we decided that the best thing to do was to hook up with a partner that could get webOS to scale." Controlling 10% of electronic store shelves, HP could rebrand just about anything.
Many fans have been with Palm for 18 years, so a change in name might feel like a betrayal. But despite some customers' relationship with the Palm brand, the larger population is more familiar with HP. It might pain some of us to see "HP" on the back of our
webOS
devices, but it's probably in their best interest.
source:
Pocket-lint