Rubinstein says key OS battle will be for 3rd place and hopes webOS will win the fight
9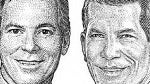 HP executive Jon Rubinstein sat down with Qualcomm CEO Paul Jacobs at the Churchill Club last night, to discuss the future of mobile technology. Rubinstein practically conceded the first top two spots in the battle amongst operating systems when he was asked to rate the current crop available. After admitting that iOS and Android are obviously selling like hotcakes, he said that the real battle will be for third place and, "We'd sure like to be that," Rubinstein said.
Qualcom's Jacobs noted that the limitations in battery life and bandwidth have held back smartphone development as the two have not kept up with all of the other things that are being accomplished. When it comes to bandwidth, Qualcom's CEO said, "We don't have enough spectrum right now. We are just going to have to be more creative about how we get content to the devices." He did point out that both the industry and the government are working on ways to solve this problem. As for battery life, Jacobs noted how today's smartphones can do all of these cool things but then the battery dies three-quarters of the way through the day. As a solution, he self-promoted Qualcom's low power display technology it is producing with Mirasol.
Other topics of discussion included carriers. Rubinstein commented that the carriers will not be the only distribution point for wireless devices in the future. Both Rubinstein and Jacobs did agree that Augmented Reality is going to be big. The technology can be used to translate signs in foreign countries among other things.
Sticking to what they see in the next five years, both agreed that the smartphone will become a digital wallet with Jacobs predicting an end to all check-out lines. He also sees digital networked textbooks and a bigger role for smartphones in the healthcare industry,
source:
AllThingsDigital