HP TouchPad discounts continue: HP gives away 6 paid apps for free
6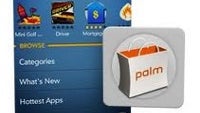 HP's firesale of the HP TouchPad cleared up the company's tablet inventory but with a $99 price tag for the 16 gig model, HP can't even pay off its expenses. Well, that doesn't stop it from
discounting a bundle of apps
now, usually costing $15 to free to sweeten the TouchPad deal.
"If you have an HP TouchPad...We've selected six apps that normally sell for as much as $14.99 and we're making them available at no cost to HP webOS customers for a limited time,"
HP said on its Palm blog. To download the applications for free you need to enter the promo code (in brackets below) and have credit card purchases enabled as you'll receive a receipt for the free apps. The applications include:
Glimpse by Inglorious Apps (

promo code: injoj55410gavxv

), which allows for better multitasking with its split-screen UI.
Camera for TouchPad by Keen Studio (

eotss76676jjzqr

), which is basically the only way to access the camera on the TouchPad if you don't need it for Skype calls.
Audubon Birds by Green Mountain Digital (

jjiox66488ddnik

), which is a visual and aural guide to North American birds.
Big Boss by Fair Play Labs (

vfimk09918lngoz

), which is a heroes and wizards game.
Sparkle HD by 10tons Ltd. (

pweuq32135vrbhx

), which is a version of the desktop game Sparkle.Save Crowberry Woods in this TouchPad version of the popular desktop game.
HP promised it will bring
another half dozen apps for free
in September, so you definitely have all the reasons in the world to try and catch those hard to get $99/$149 TouchPads while/if they are still out there.