HP TouchPad Android porting project started by the Touchdroid Team
13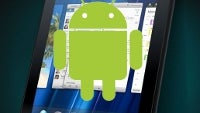 After
HP decided to bring its discontinued webOS TouchPad tablet to fire sale prices
, there have been a lot of warnings that people are buying an obsolete device with mobile OS that doesn't have the thousands of apps Android or iOS possess, but at $99 nobody listened, of course. And here comes the news of a
project which aims to port Android to the ARM-based hardware on the HP TouchPad
.
After all, in terms of silicon, it is up with the best out there, and, although new drivers have to be written and a lot of coding done, the so-called
Touchdroid Team
hopes to start off with Gingerbread and an eventual Cyanogen mod, then move on to either Android Honeycomb, or Ice Cream Sandwich, depending on how advanced they are with Android's tablet edition by the time ICS hits.
Thomas Sohmers seems to be the project lead - a 15 year old whiz kid, whose CV contains the following:
"
Lately I have been working with the new Microsoft Kinect in developing Natural User Interface applications and virtual movement systems in my life long dream of building the Star Trek holodeck. Software wise, I have been working extensively with the Motorola Xoom and other Android devices to be able to run multiple operating systems on a rooted Android device within a virtual environment, or be able to dual boot the other operating system. My main goal in doing this is to open up development for mobile devices, so users with Android devices can take advantage of software from other platforms.
"
Now you know you are in good hands, and if the Touchdroid Team's efforts are successful, there will be a lot of joy added to the already smile-inducing fact that you bought good hardware at rock-bottom prices.
source:
Rootzwiki
via
Liliputing