Android phones in U.K. and France receive RCS Chat; will the U.S. be next?
7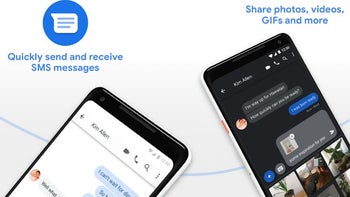 A tweet disseminated yesterday by Google SVP Hiroshi Lockheimer
(via
9to5Google
) reveals that the rollout of the next generation of messaging, Rich Communication Services (RCS), has been completed in the U.K. and France. The platform replaces the short message service (SMS) commonly known as text messaging. RCS expands the 160 character cap that is found with SMS, supports group messages and issues a "read-receipt" when a message you sent is read by the recipient. In fact, it will also show you when someone you're chatting with is writing you a message. Those who use messaging apps like WhatsApp might be familiar with these features although the latter does have a character cap of 65,536!
RCS is not rolling out yet in the U.S. and Lockheimer's tweet makes it clear that Google would love to talk to U.S. carriers about implementing this in the states. Right now, what passes for RCS in the U.S. are Pixel 3 phones that can message other Pixel 3 phones and some Samsung and OnePlus models that can't message each other or the Pixel 3 units. What is hard to understand is why Google was able to bypass the U.K. and French carriers to offer RCS in those countries but apparently is holding back in the U.S. because of the carriers. Or is it? Lockheimer's tweet says that the next batch of countries will soon be receiving RCS, although it isn't clear whether the U.S. is among them. Once RCS is rolled out in a new area, users opening the Android Messages app will be prompted to opt into RCS Chat, Google's name for the service. On new Android phones, Messages will remain the default messaging app and will prompt users to opt-in when first opened.
RCS Chat does not feature end-to-end encryption

Google is chasing Apple's Messages app which many consider the best in-platform messaging service (as opposed to a third-party app). When a message is in a blue text bubble in the app, it means that you are messaging with someone using an iOS device or a Mac. These messages are encrypted end-to-end and animated effects like Animoji and Memoji can be added. On the other hand, if the text bubble is green, it means that you are messaging someone using an Android device; these messages are not encrypted and you can not use any special iOS-based animation. Google plans to have something on the screen that will let the user know if he is connected to another Android user with RCS capabilities or is messaging with an Android or iOS user via SMS.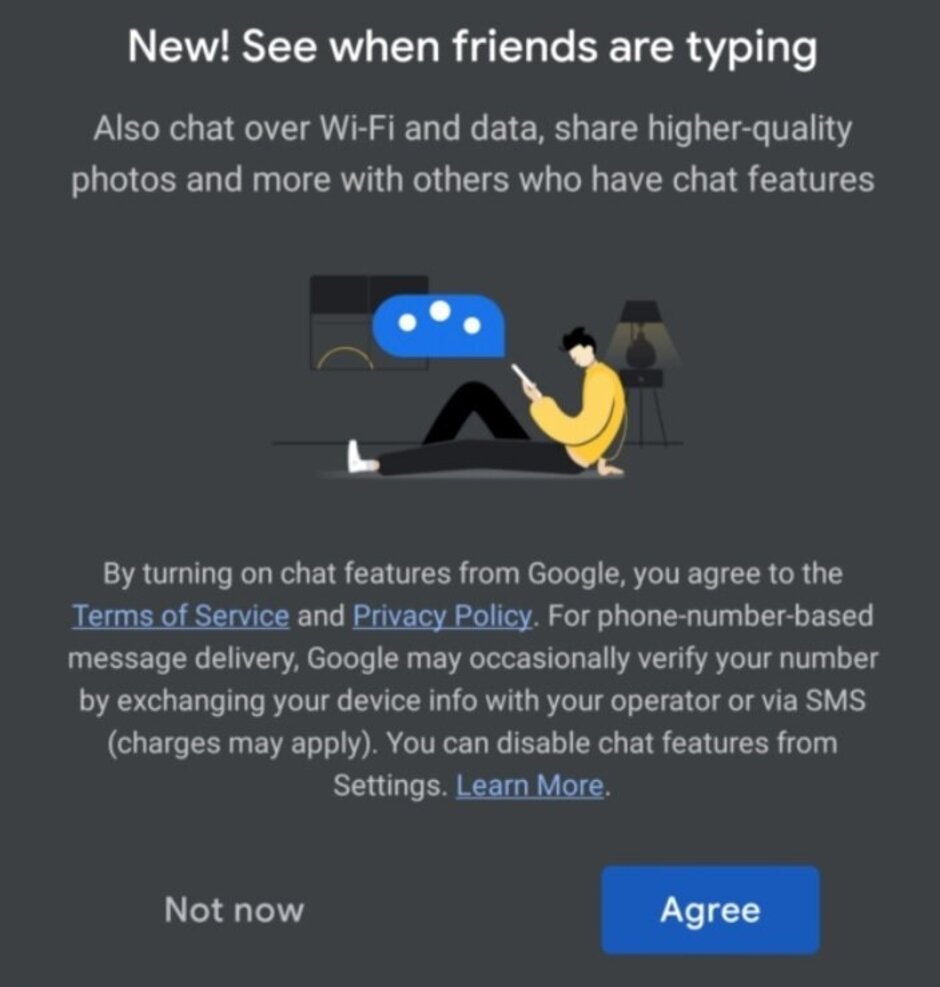 Once RCS Chat is available in a market, users will be prompted to opt-in the first time the Messages app is open
Speaking of encryption, this is not going to be a feature right away on RCS. Google is said to be working on this. So if you're an Android user planning a protest against the government in your country, you still might want to consider a third-party app like Telegram. While RCS Chat will not feature end to end encryption, once a message is delivered to the recipient, it is removed from Google's servers. According to Drew Rowny, the product lead for the Android Messages app, "From a data retention point of view, we delete the message from our RCS backend service the moment we deliver it to an end-user. If we keep it, it's just to deliver it when that person comes online." One Googler working on the Messages app, Sanaz Ahari, adds "We fundamentally believe that communication, especially messaging, is highly personal and users have a right to privacy for their communications. And we're fully committed to finding a solution for our users."
Those in the U.S. who have been hoping for Google to bring RCS Chat to their Android phones have their fingers and toes crossed. Hopefully Google will figure a way around the carriers as they did in the U.K. and France; otherwise, it could be some time before the feature touches down in the states.