Google updates Android Wear with support for interactive watch faces
13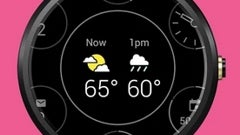 Google today announced a new feature of Android Wear: interactive watch faces, which can be enabled following an update that's going to be available to "all Android Wear watches in the coming weeks." As the name suggests, interactive faces bring more life to your Android Wear smartwatch, and more ways to interact with it.
Right now, there are only three interactive watch faces available: Bits, Together, and Under Armour. Bits lets you choose the info you want to see on the screen besides time, including missed calls, new emails, weather, battery status, stocks, upcoming meetings, and so on. Together is an interesting watch face that transforms the entire display "into a space for sharing", allowing you to pair your watch with someone else's, and share photos, emojis, or activities. Finally, Under Armour is for users who regularly check their fitness stats. You can get these three interactive faces via the source links at the end of the article.
A demo of the Bits interactive watch face can be seen in the video embedded below.
sources:
Android Official Blog
,
Bits
,
Together
,
Under Armour