Google to allow PayPal to become payment option for Android Market?
4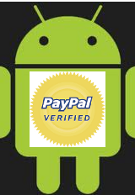 Bloomberg is reporting that Google and PayPal are currently trying to hammer out an agreement that will allow Android owners to use the transaction service to pay for apps purchased in the Android Market. PayPal could be a payment option for shoppers in the Market by the end of the year. Currently, payments are made using a credit card registered with Google's Checkout service.
By giving developers an easier way to get paid, Google is hoping that it results in more applications being developed for its open source operating system. While the Android Market is now up to about 75,000 apps at last count, Apple's App Store still owns a comfortable lead with more than 225,000 choices available. Although Google Checkout allows for a quick payment process, PayPal's 87 million members dwarf the membership of the former, which might raise the number of app buyers.
Maribel Lopez, whose firm tracks the mobile industry, said, "It's clear that PayPal has been making huge strides inmobile." The head of Lopez Research continued to say, "FromGoogle's perspective, they just haven't won the war on this. Whybother fighting it?" There is also the possibility that talks could break off without an agreement having been reached. Both PayPal and Google spokesmen declined to discuss the situation.
source:
Bloomberg