Google shifts patent momentum, Android continues to dominate stateside in the second quarter
80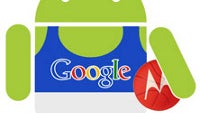 Android continued to dominate the US smartphone landscape in the second quarter of the year
capturing 52% of the market
, while Google managed to shift the negative patent momentum, according to market researchers from NPD. At the same time, iOS also registered a slight increase in its share growing to 29% from 22% a year ago. The biggest loser here was RIM's BlackBerry OS, which dropped dramatically to only 11% from 28% in the same period last year. Windows Phone 7 and webOS held a relatively steady marginal share of below 5%.
"Google's acquisition of Motorola shifts the balance of power in the handset-patent conflict between Google and its operating system competitors. Android's momentum has made for a large pie that is attractive to Motorola's Android rivals, even if they must compete with their operating system developer,"
Ross Rubin, executive director of NPD commented.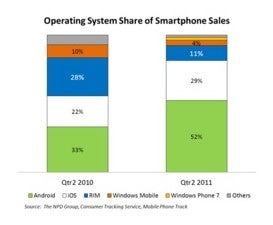 Speaking about phone makers, Google's acquired Motorola slid 3 percentage points to capture 9% of the market in the second quarter. Interestingly, though, pre-paid smartphones seem to be one of the big opportunities for Moto, which previously had a strong portfolio in that segment with its feature phones. NPD's data shows that one out of five pre-paid phones sold (22% to be exact) were smartphones, a huge growth compared to last year's 8%. As you'd expect, Android is the platform leading development in that niche.