Google mulling an Android messaging application like BBM and iMessage
28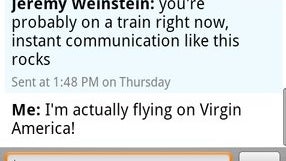 WSJ sources confirm that until recently Google has been
creating an integrated messaging feature for Android
, similar to what BBM, and, with iOS 5, iMessage have brought to the table.
Android Market has a number of messaging applications that allow you to exchange files and media, video chat or call mobile and landline numbers, but besides Google Talk, which is somewhat limited compared to these 3rd party apps, there hasn't been a system-wide messaging system. Skype is pretty popular, but now that Microsoft acquired it, Google might be looking into taking its own offerings to the next level.
There are a lot of tantrums thrown in these days how these smartphone platform messaging apps are going to
kill one of the carriers' cash cows - text messaging
, and it was not until Apple announced iMessage that everyone started pronouncing texting, BBM, and other means of communication dead.
You still need the carriers to provide your data, though, and they can just raise the package price to compensate for all those things you will be doing via the Internet, plus it's premature to announce an extremely popular network like BBM dead, not to mention the mountains of feature phones that will
keep on texting for a good while
. Still, a systemwide messaging solution for Android that allows file and media exchange, plus text, voice and video group chat, would be a great addition to
Ice Cream Sandwich
, for instance. Combine it with Google Voice, and the challenge for carriers might be guaranteed this time.
via
WSJ