Nielsen says teens talk less, text more and watch the most videos
6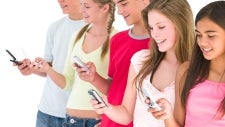 The youth of the nation is what charts its future, and if we are to believe the latest study conducted by Nielsen, our future will be one where people
talk less, text more and watch online video
a lot. At least that's what today's teens do – we've heard about
hypertexting kids
, but today's thirteen to seventeen year olds are almost all hyper when it comes to messaging as they'd easily out-text any other age group. They actually send double the amount of texts an 18 to 24 year old sends a month. The exact number is the whopping
3,364 texts each month
in comparison to 1,640 texts for the next age group. That brings nearly $25 billion revenue to carriers, but with free messaging services like iMessage and BlackBerry Messenger, we might be on the verge of a
new era in texting
.
In addition, teens
talk less
than pretty much everyone else with an average 515 minutes each month for the first quarter of 2011. The only age group that talks less are seniors over 65. What do they do on their mobile devices? If your guess was
mobile videos
you were right – teens spent an impressive 7 hours 13 minutes watching videos a month, nearly double the number for the general population.
But they
don't watch TV that much
– teens only spend 23 hours 41 minutes in front of the TV each month, much less than the 34 hours 39 minutes for the average American. Surprisingly, while 78.7% of them are active on social networks or read blogs, they manage to
spend less time on their computers
with an average of nearly 40 hours for an 18-year-old. How do your mobile habits rate against those of today's teens? Don't hesitate to share how you use your handset in the comments below!
Recommended Stories