Google launches Zavers, the coupon book for your phone
1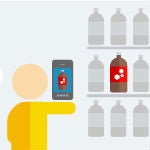 Google is an advertising company. That's something that is hard to forget, but is often overlooked. Google may be known for its services and products, but the main way it makes money is through advertising. So, it's not a surprise that Google has tried to find ways to bring traditional advertising forums to the digital world. We saw Google's attempt at
catalogs
, and now, Google wants to bring coupons to your phone with Zavers.
The idea is that Zavers will work through Google Wallet, which automatically limits the user base quite a bit, but more than likely Google sees that as an easy way to beta test the service without calling it a beta. Users will add add coupons to their accounts, which will be applied at the register with a single scan. Google Wallet users will have Zavers coupons redeemed automatically at checkout. As is usual for Google products, coupons will be personalized based on various factors like your location, and interests.
Of course, while there is a benefit to users, the real deal here is for retailers and manufacturers who will get real-time access to coupon performance and redemption rates, which should be a pretty interesting proposition for retailers trying to figure out this new digital world. As of right now, it's really an announcement for retailers and manufacturers. More info for users will come soon.
Zavers was borne from Zave Networks, which Google bought back in 2010.