Google confirms new Pixel tablet, but it's not for you
14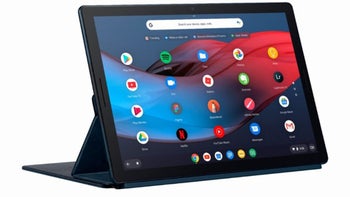 There have been rumors that Google was shutting down hardware projects related to laptops and tablets, but it appears that might not be exactly true. Just like some other products that we
suspected Google to kill
, it seems that Google will instead pivot those products more towards the enterprise market instead of the consumer market.
At the Google Cloud 2019 event -- a conference aimed at business customers focused on the GSuite and other cloud offerings -- there was a session called "Google Hardware for Business" during which Steve Jacobs, lead product manager at Google, confirmed that there will be more
Pixel
laptops and tablets. While Google saw last year's
Pixel Slate
as a consumer-focused product, Jacobs said the next generation of Pixel Slate will be aimed at a workforce that wants to "be productive on-the-go."
He explained
that Google's own workforce tends to work away from a desk 60% of the time and working from home more than 40% of the time. As such, having something portable but powerful is key. And, if you've ever been to the Google campus, it's easy to notice so many employees working outside on Pixelbooks.
Now, it's unclear exactly what this will mean for future Pixelbooks and Pixel Slates, because the idea of being "productive on-the-go" is something that can describe plenty of people, be they workers in various fields or students. In terms of hardware alone, it's hard to imagine what kind of changes Google would have to make. In general, the issues with the Pixelbook and Slate revolve around the price and the software.

The Pixelbook might be the best Chromebook on the market, but it gets hard to justify once you factor in the price which ranges between $999 and $1,649, depending on the build. The Pixel Slate starts at $799 (since the Celeron versions seem to have been canceled altogether) plus another $199 for the keyboard, which would be pretty much a requirement for anyone intending to be "productive on-the-go." However, the bigger issue with the Slate was more with software. The
device was laggy
to start; Android apps still aren't terribly well-made when it comes to tablets; and, ChromeOS just wasn't quite ready to be on a tablet yet.
Google will have to work on those issues if they're aiming at an enterprise market, because it's an especially tough sell to get a company to buy all new machines in addition to moving from Windows to ChromeOS, even if Google runs the cloud. Similarly, while individual workers or students might be able to make the switch without issue, there are always less expensive Chromebooks to be had.