Google Talk getting real-time video calls image stabilization in Android Honeycomb devices
5
Google Talk on Honeycomb tablets is receiving image stabilization during video calls, which should help with jerky picture while moving or walking around. The system is being provided by SRI, a California-based non-profit research institute, whose inventions range from the ultrasound to automatic checks processing. It's been about 10 years in the making, but only now are mobile devices powerful enough to allow for the software to work in real time.
The folks at SRI explain the magic behind the video image stabilization that is to grace Google Talk on your Android Honeycomb slate:
"
Video chat applications capture video from the front-facing camera on smartphones and tablets. Once an image is acquired by a camera, it is compressed before it can be transmitted. In video compression algorithms, the bandwidth used to encode the video increases with the amount of motion in the scene.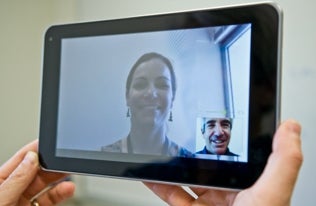 By stabilizing the video, SRI's software compensates for scene motion and allows the video compression algorithm to improve image quality by using fewer bits to encode the video. There is increased mobile device efficiency when an image is stabilized before compression, and there is less work for a device's video compression engine to perform.
"
So besides less jerky videos. we'll be getting ones that hog less bandwidth - hopefully that will help with video chats over slower 3G connections. As for the whole image stabilizing thing, we haven't seen a software solution that can beat a good optical image stabilization, but we'll spare judgment for until we see the results SRI and Google have arrived at.
source:
SRI
via
Ubergizmo