Google Street View sounds like yesterday's news? How about Google Desert View?
6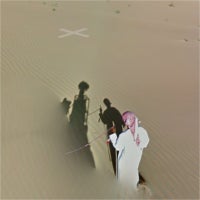 So, when Google Street View first started mapping cities around the world – that was awesome, innovative, and pretty interesting to follow. Now, it's been 6 years and everybody is quite used to the idea of having on-the-ground pictures of whatever location they wish to explore... as long as it's within a city or on a road.
Though roads were only the beginning for Google, as it has now started photographing the more inaccessible areas of the world,
partnering up with adventurers
around the globe and equipping them with a Street View backpack. Of course, these partners are only meant to lend a hand, not take on the whole workload, as Google hasn't stopped working on the project.
So how deep into the harsh areas is the search giant willing to go, you ask? Well, how about a desert?
Google's latest conquest leads us to the Liwa Desert in Abu Dhabi. And no, there's no Street View car in sight. Instead, the picture-taking vehicle, who will allow us to gaze at the desert's dunes, is a camel. Check out the promo video, and if endless seas of sand are your thing – follow the link below.
Google Maps link
source:
YouTube
via
BGR