Google Search update backfires for some users, removes hands-free capability on alarms and timers
19
An update to Google Search has caused many Android users to miss their daily alarm clock wake-up. We don't know how many Android users were late to work, but the problem caused many who thought that their alarm was set, to discover that they had no alarm scheduled after all. Normally, using Google Now to verbally set an alarm simply required the user to say something like, "
Set my alarm for 8am
," and the phone would automatically set the alarm.
However, following the update, after speaking your request, the process requires the user to tap a "Set Alarm" button. And to make matters more confusing, not every Android phone has lost its hands-free capabilities. Apparently, the
Motorola Moto X
is one of the models that has been negatively affected by these shenanigans.
Using your smartphone as a timer or alarm clock has become second nature to most. If you create your alarm verbally, you should make sure that your alarm has truly been set. It only takes a few extra seconds to double check. And we don't have to remind you what could happen if you come to work late.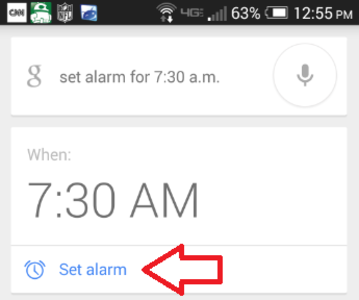 Make sure your alarm set before you fall asleep for the night
source:
AndroidCentral