Google Play had a "breakout year" and is predicted to earn 4x the revenue in 2017
7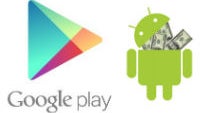 Everything that we've been hearing recently about Google Play points to the fact that the store is
generating revenue
faster and faster. It still isn't up to the level of the iOS App Store, but it is gaining very quickly. Citigroup analyst Mark May is saying, "This year has been a breakout year for Google Play," and the future is looking even brighter for the store.
According to May, Google Play is set to have revenues of about $1.3 billion this year, and May is expecting the store to have compounded annual growth of 43% over the next four years, which would mean that in 2017 Google could be looking at $5.2 billion in revenue. That's a full 4x as much as the revenues from this year. And, that estimate is for Google Play sales of apps, games, and in-app purchases only. If you were to also look at in-app ad revenue that Google makes through AdSense, May estimates that will be another $3.2 billion in 2014 and potentially as much as $7.2 billion in 2017.
May has produced this report because he thinks that investors focus too much on Apple's App Store, and Facebook's mobile advertising, and have been somewhat ignoring the growth rates put up by Google Play. If May turns out to be right in his estimates, it would seem that investors won't have a choice but to pay attention to Google Play soon enough.