Google Play Store APK leaks, offers new features
19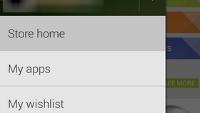 The Google Play Store APK for version 4.4.21 has been leaked and can be installed on many Android models right now. As we've already pointed out last week, the only real change is
the addition of the three line hamburger navigation menu
that leads to a slide-out panel. This is all the rage these days among your cutting-edge code jockeys.
While no launch date for KitKat has been announced, we could see it released along with the
Google Nexus 5
as soon as Monday
. Whichever date Google ultimately selects to launch Android 4.4 will probably include the release of the Google Play Store update. Besides the new navigation menu, the update also kills bugs and enhances the performance of the Google Play Store. The APK file should be compatible with your Android powered device running Android 2.2 or higher.
If you decide to install the APK, let us know what you think of the update. All this talk about hamburgers is making us hungry, so let's leave you with the link to the file
right here
.
source:
RedmondPie