Does bowing ball in tweet mean October 28th launch for KitKat?
36
"
When will KitKat launch?
" has become a national obsession in the U.S. replacing "
who shot JFK?
" as the question weighing on American's minds. Ok, maybe that is a large overstatement, but with a number of industry sources expecting the latest Android OS build to be released any day between now and the end of the month, the question has become something of a puzzle.
As such, we have smartphone fanatics in general and Android users specifically, looking through every tweet, press release and news report hoping to break the code that will reveal the launch date of Android 4.4. And like those in the 1920's who used to believe that future stock market winners were encoded inside the dialogue bubbles of comic strips, there are some who have taken apart a tweet sent from the @KitKat Twitter page and say that it shows an October 28th release of the new OS build.
Those who believe in this analysis say that the three holes in the bowling ball represent a countdown toward the release of KitKat. Three holes equals three days to go. The tweet was sent out on Friday, so we will be on the lookout today for some image from @KITKAT that would give us a hint that there are two days remaining until the KitKat launch.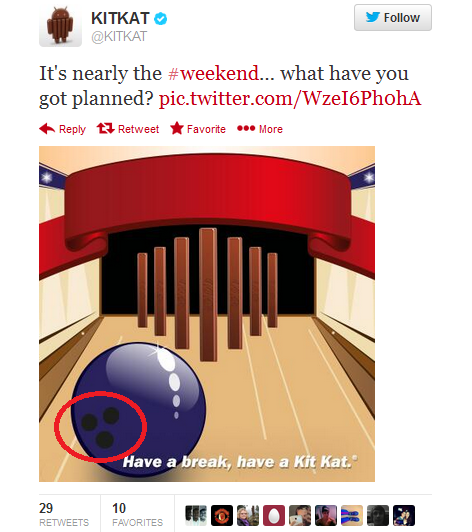 Does this tweet point to an October 28th launch for Android 4.4?
Thanks Anonymous Tipster!
source:
@KITKAT