Google Play update to version 4.4 is here, brings hamburger menu and not much more
14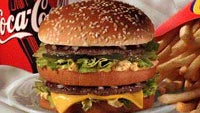 The Google Play Store has been updated to version 4.4. No, this has nothing to do with the Android 4.4 KitKat update and it is just a coincidence that the numbers match up. So what changes will you notice once you download the update? Well first of all, the Google Play Store will now have the three line hamburger menu. This seems to be the hottest trend in navigation. We've seen more hamburgers on Android apps in the last few months than at Mickey D's at lunchtime.
Pressing the menu button used to open the overflow list, now it merely opens a window with two options, "Settings" and "Help". Other than that, everything else remains the same with users having the option to select from "My Apps", "My Wishlist" and "Redeem". The update is all about navigation and getting to your choices quicker.
If you haven't received the update yet, you can try a few things to coax it out, all requiring a reboot of your device. One person was able to get the updated Google Play Store app by rebooting his phone. Easy enough. Another option is to uninstall the Google Play Store updates in Settings>Applications and see if the update comes when you reboot. Or, you can clear the cache and data for Google Services Framework and then reboot. And if none of those choices meets with your satisfaction, or if none of them work, you can simply wait for the update to hit your device, which it always does eventually.
source:
AndroidCentral