Google Play Store 5.0 released with Material Design overhaul
14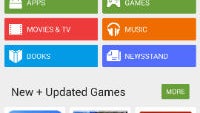 We knew it was on the way, and the Google Play Store 5.0 update has finally started rolling out. The update should make it to everyone over the next week, and when it does, you'll be getting the new Material Design UI overhaul that has been expected. The Material Design changes have creeped into the Play Store before on the
content pages
, but now it extends throughout the app.
We have seen what to expect with the
Play Store 5.0 update
, so there isn't all that much that is surprising. As we saw in the original leak, the update to version 5.0 changes the color scheme a bit, extends the color of the title bar to the section tabs below, and makes the section bars on the home page solid colors.
But, there are also a few smaller changes that we didn't know were coming. The first is that Google has changed the Play Store icon itself. The Play shopping bag is now grey, with a slightly larger Play icon, and a paper-like handle, which goes along with the overall "papery" feel of Material Design. The "What's New" section of app listings has been moved to the top. And, the other small change that we didn't get to see in the leak is the changes to the hamburger menu, which has changed the icons used for the various sections (Store home, My apps, My wishlist, and People).
The update to the Google Play Store is rolling out now, and should make it out to everyone in the next week or so. If you want to grab it now, you can jump to the source for links.