Google Phone for Android update adds filter to prevent spam calls
4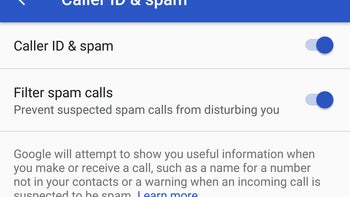 Google had been testing a new feature that would theoretically prevent spam calls from ruining your day for a few months now.
Back in April
, the Mountain View company kicked off a beta program for the
Google Phone app
, which would test exactly this feature.
Now, the app's support page has been updated to reflect the new changes, which apparently have already been activated on many devices. Basically, you find a new feature in the Caller ID & spam menu of the
Google Phone
app, which should prevent suspected spam calls from disturbing you when enabled.
All calls that the app identifies as spam will be redirected to your voicemail and you won't even be notified about it. Obviously, you can still listen to your voicemail if you want to, but you won't know if the app has detected a spam call.
Don't forget that you can enable this new feature by going to Settings / Caller ID & spam, and tapping the toggle
Filter spam calls
option. Naturally, you can disable it at any time if you don't trust that Google's app can really handle spam calls for you.