Do you miss the dismissable cards in the Google Now feed? Here's how to get them back
8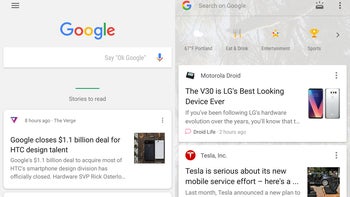 The latest major redesign of the Google Now feed caused an essential user-favorite feature to get snubbed in favor of a more appealing aesthetic for the feed. Yes, the new looks of the informative feed look great, but they no longer allow you to swipe and dismiss the cards of all the stories you're no longer interested in. You still can dismiss stories, but this involves interacting with a dreaded three-dot menu...
That's a sad state of affairs for all fans of the informative Google Feed that aims to cater to all of your interests. Fortunately, there is a way to bring back the beloved functionality back.
The method we have in mind involves the use of the arguably best Android launcher out there, Nova Launcher, which by right should probably be featured on any future Android device out of the box - it's customizable, it's lightweight, and it does its job just right, but we digress.
Anyway, here goes. While the stock version of Nova Launcher actually doesn't support the Google Now feed, an official companion addon developed by the app's developer allows you to get it as a leftmost homescreen. And guess what: it's a bit outdated and doesn't come with the redesigned interface in tow and still allows you to swipe and dismiss your stories. Sadly, you no longer get the beautiful looks of the new feed, but at least you get the useful feature back.