Google Now adds extra customization with new "Explore Interests" feature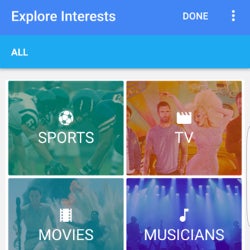 Google Now is Android's silent assistant, which gives you updates that should matter to you via a set of cards. Whoever has it activated on their phone is probably familiar with the timely updates on traffic and weather that the assistant pushes out regularly, a card which shows you where you parked, and many news stories from the Internet, based on the user's past behaviours, search patterns, and app usage.
Thus far, the only way to control said suggestions was by eliminating them – if Google guessed wrong whether we would like to see a specific website's news on our Now feed, we can select a "Not interested in X" option and never get similar updates again. However, it seems the feature is about to become much more customizable.
Users have reported that their Google Now feed is now displaying a new card – Explore Interests. Tapping on it opens up a menu, which allows them to manually add various sports, movies, famous people, or stocks to their interest feed.
While a cool and needed addition, when sifting through the screenshots, it still seems to us that there is no search bar. The user is given a choice of topics or people that are currently popular in their area or trending worldwide, but we don't see a custom way to add one. So, it appears that Google still intends to use its own algorithms to determine your niche interests by analyzing your searches, website visits, app downloads, and probably
Google Assistant conversations
in the future, but will also let you add some of the more popular news to the Now feed manually. Of course, we will have to see how that works when the update is pushed to our phones as well.