Google Nexus Two gets the hands-on treatment?
7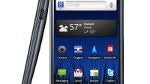 It was only yesterday
when we told you about a whisper in the industry that the
Nexus Two
is to be officially unveiled on November 8th. And now the claims go even further – the information now is that the Google Nexus Two was exposed to the hands-on treatment.
There is no fire without smoke and the general consensus is that the Nexus Two will be manufactured by Samsung. According to the unconfirmed rumour, the follow-up of the Google Nexus One will not be a great leap forward in the same way that the original Nexus was but rather it will be more like a refreshed version of the Samsung Galaxy S. It's supposed to have a 4-inch AMOLED screen, curved backs and the thickness of the phone will be comparable to that of the Galaxy S series. According to the source, it will also have a front-facing camera. Other immediate impressions of the phone are that it has polished look and on closer view reveals a curve, while the screen is dented a little bit.
It's thought that the Google Nexus Two will run the new version of Google's Android OS which is called Gingerbread. Still, there is some dispute whether that's 2.3, 2.5 or 3.0 (with 2.3 looking most likely), but the real point here is that Google's flagship device will come with the new version of its OS. And if the difference between Eclair and Froyo is anything to go by, then Gingerbread will make a huge difference.
Of course, this is all an unconfirmed information and we're all counting the days until November 8th arrives. But until then, stay tuned to us for all the news about the much anticipated new Google phone.
source:
Gizmodo