Google Nexus 6P vs Samsung Galaxy Note5: in-depth specs comparison
28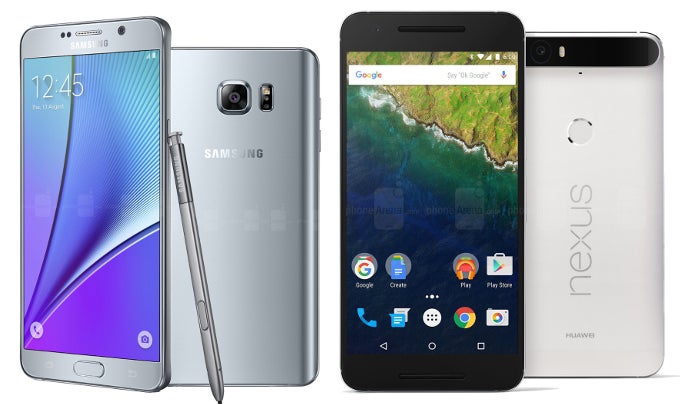 Well, folks, it looks like Google will not be giving up on phablets any time soon. This year, the company decided to bring back the beloved 2013
Nexus 5
in
a new form
, but still with a relatively compact shape. However, the company refused to give up on what it started with the 2014
Nexus 6
, so it also introduced a new large-screened handset this year – the
Nexus 6P
. And, out of the two Nexuses, it is bears the better specs and more premium design. Naturally, the Huawei-made phablet is what should be considered the true Google flagship for 2015.
So, what is the best large screen handset that money can buy today? Many would point towards Samsung's
Galaxy Note5
line for a variety of reasons – the crisp and beautiful Super AMOLED display, powerful hardware, unmatched S Pen stylus, fantastic camera, and the many features that the TouchWiz interface adds to Android are often pointed out. All that said, Samsung has also been stepping up its game in terms of design this year, and the Note5 is a stunner in terms of looks.
So how does the Google Nexus 6P match up against Samsung's beast? Let's dive in deeper and take a closer look!
Design
Google finally has a metal-clad warrior to fight on the vanilla Android side. Indeed, Huawei certainly added its touch to the premium-looking device. Built with aircraft-grade aluminum, the Nexus 6P will not be laughed at, should it decide to sit at the same table with all of 2015's flagships. Now, the Galaxy Note5 is still a bit flashier, with Gorilla Glass 4 covering its back, giving it that much more flair and bling. However, due to the shiny back, the Samsung phablet is much more prone to always holding greasy fingerprint smudges on its back, and it's more slippery, which many large smartphone users prefer to avoid.
So, in terms of size, the Nexus 6P is noticeably taller, very slightly wider, and ever so slightly thinner than the Galaxy Note5. The former measures at 6.27 x 3.06 x 0.29 inches (159.3 x 77.8 x 7.3 mm), while the other's body is pinned at 6.03 x 3.00 x 0.30 inches (153.2 x 76.1 x 7.6 mm). All despite the fact that both handsets have the same 5.7" display diagonal. The Nexus' tallness can be forgiven due to its front-firing stereo speakers, so long as that's what the user is looking for. Also, it's impressive that Huawei managed to stick a 3,450 mAh battery under its hood, while the Note5 has a 3,000 mAh one.
Fingerprint scanner placement is a design choice, which will affect the way you use your phone. The Galaxy Note5 has its biometric sensor embedded within its home button, on the front of the device, just under the display. The Nexus 6P has its placed on the back, just under the camera. The premise is that the user always has their index finger back there, when they are holding the phone normally. However, should you want to unlock the Nexus while its simply lying on the table, when its held by someone else, or generally in any situation when you are not holding it in your dominant hand and in portrait mode – unlocking will be a bit awkward. In contrast, the Note5's fingerprint scanner placement takes care of this issue in most situations.
Display
Speaking of Samsung, the Note5 has the same sized screen with the very same resolution – 5.7" diagonal, 1440 x 2560 resolution, all resulting in the same 518 ppi density. Sammy's flagship employs the Super AMOLED tech, and it has recently become famous for being able to achieve near-perfect color reproduction. Samsung's flagships are currently praised as having some of the best displays to be found on an Android smartphone.
Both displays are protected by the latest and greatest by Corning – Gorilla Glass 4.
Software and functionality
Google's Nexus 6P will, of course, deliver the pure Google Android experience – no external apps, functions, APIs, or anything that Google did not intend to be installed on the phone on shipping day. This has been one of the Nexus line's selling points for many people, as the Google-designed hardware will, naturally, run the Google-designed software very snappy. We expect nothing but lightning-fast responsiveness from the Nexus 6P. However, some may find stock Android a bit on the boring side – as we said, it lacks a lot of the bells and whistles that other manufacturers like to add to their smartphones. Think split-screen, customizable app drawer, customizable quick toggles, and many, many more.
The Note5's TouchWiz is a bit slimmer than the one we could find on the 2014 Galaxy Note 4, but it still retains that Samsung touch. The interface looks lighter, but we assure you, there are a few features that you will actually miss. Add on top of this the S Pen stylus, which makes using the Note5 as an organizer that much easier and pleasurable, and we have a true contender for the 1st place in the functionality contest. However, even lightened, we've noticed TouchWiz still lagging here and there, so there is still a toll to be paid.
The Nexus 6P will come with Android 6.0 Marshmallow out of the box, bringing some cool new features, such as native support for fingerprint sensors, much better control over app permissions, Google Now on tap, and the battery-saving Doze. The Note5? Well, you know how it goes – all other manufacturers take their time before updating their handsets, and Google's Nexuses are certainly the devices that are guaranteed to receive Android updates the longest. At least that's what history tells us so far.
Processor and memory
In accordance with its aspirations to be a 2015 flagship, the Nexus 6P, naturally, packs a 2 GHz, 64-bit, octa-core Qualcomm Snapdragon 810 under its hood. The processor was off to a rocky start this year, as rumors about it overheating spread early in 2015. It still came through, it seems, as it's currently humming under the hoods of a lot of this year's top-class devices.
Samsung decided to steer away from the Snapdragon 810, allegedly due to the overheating debacle, and chose to use its home-made 2.1 GHz, 64-bit, octa-core Exynos 7420 SoC, which managed to wow tech heads with its solid performance throughout the year.
In terms of memory, the Nexus 6P has the more modest 3 GB of RAM, whereas the Note5 packs 4 GB of LPDDR4 RAM. To be honest, the latter is a bit overkill at the moment, however, users who want to have "future-proof" stamped all over a device, will certainly appreciate the extra gig of random access memory.
The Nexus 6P comes in three storage variants – 32 GB, 64 GB, and 128 GB. The Galaxy Note5, on the other hand, only comes in two – 32 GB and 64 GB. Neither of the phones offers microSD expansion.
Camera
We have huge expectations for both the Nexuses' cameras. They rock the same Sony-made sensor, which offers a 12.3MP resolution with 1.55-micron pixels. The reason we mention this in particular is due to the fact that most smartphones employ 1.22-micron pixels in their cameras. A larger sensor pixel can collect much more light for shorter periods of time, so the Nexus 6P's camera should show some impressive low-light photo-taking prowess. In fact, Google said that the 1.55-micron pixels are so effective that the company doesn't think the camera needs optical image stabilization (and it doesn't have one).
Nexus 5X and 6P official camera samples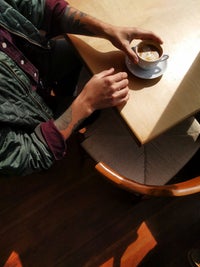 The Galaxy Note5 rocks a 16 MP sensor and, as we've already had a lot of time with the phone, we found it to take excellent photographs. It has a larger resolution, which promises better detail reproduction than the Nexus, at least on paper. And the Note5's camera is assisted by OIS, which help it not only for low-light shots, but also when shooting in shaky conditions.
Now, the bells-and-whistles rule applies here, too – stock Android's camera app will probably not be as elaborate as the one found on the Note5's TouchWiz, which is quite sophisticated. Still, Google did say that the Nexus 6P will be capable of recording 240 FPS slow-motion video, 4K clips, and even GIF animations, so the Android Camera may not be far behind the TouchWiz one, albeit not as sophisticated.
Expectations
Based entirely off of on-paper specs and educated expectations, one can't easily point out the "better" phablet here. As previously said, the Galaxy Note5 is often touted as the "best Android phablet money can buy", but the Nexus 6P seems to promise a lot in terms of design, function, camera, and battery life. Indeed, if one is craving some snappy, stock Android on their phone, and can live without the S Pen, they may wish to wait a bit and check out the Google Nexus 6P, as it's a serious contender.