Google Nexus 5X: the specs review
After a few weeks of intense leaks, the moment finally came for Google to take the stage and announce the Nexus 5X, a smartphone that the many fans of the original 2013 Nexus 5 by LG and Google will probably find very interesting! Although the "revived" Nexus 5 doesn't feature the most powerful or innovative spec sheet on the market, it nevertheless packs some interesting and very promising technology, such as a Sony camera sensor that the company kept strictly for camcorders. So, let's dig right in and see what this puppy is made of!
Design
The LG Nexus 5X is a heartfelt homage to 2013's much beloved
Nexus 5
smartphone, also made by LG. However, outstanding design isn't exactly what the 2013 Nexus phone went down in history with. In fact, it was widely showcased as an example of purposefully boring, utilitarian design — made to please Android developers first and foremost. But we love it anyway! So, where does the Nexus 5X take things? Well, it does a great job with refining the original concept and making it more palatable, while staying true to it. The original Nexus 5 was only available in black, but the Nexus 5X comes in white and mint green as well.
The 5X is also a more elegant (although heavier) handset compared to its predecessor. The Nexus 5 measured 5.43 x 2.72 x 0.34 inches (137.84 x 69.17 x 8.59 mm) at a weight of 4.59oz (130 g). With its slightly bigger, 5.2-inch display, the new Nexus 5X sees an increase in size to 5.78 x 2.85 x 0.31in (147.0 x 72.6 x 7.9mm) at a weight of 4.79oz (136g), but as you can see, it is also considerably thinner! But, save for the addition of stereo speakers on the front, the Nexus 5X's looks are delightfully "same old". Plastic is still the build material of choice, of course, and it's the same rubbery kind, which means the smartphone won't be as slippery as most handsets out there.
Display
Continuing in the spirit of its venerable redecessor, the Nexus 5X comes with a 5.2-inch, 1080p resolution IPS LCD display whose
pixel
density measures an "it's enough" 424 pixels per inch. Knowing the original Nexus 5, which had a 5-inch display of the same properties, we expect the one on the Nexus 5X to exhibit a color temperature that's very close to the reference 6500 Kelvins, along with improved brightness levels and gamma response. Hopefully, LG's done a good job with the display, because the original's legacy still carries on — two years down the road, the Nexus 5's screen is still great! Moreover, the Nexus 5x's display is covered in Gorilla Glass 3 and features a fingerprint and smudge-resistant oleophobic coating — but these were present in the original as well.
Hardware
Interestingly enough, the Qualcomm Snapdragon 808 SoC which powers the Nexus 5X has proven itself a viable choice for smartphone makers, following its debut in the LG G4. It has also popped up in the
Moto X Style
, the
Xiaomi Mi 4c
, and
Lenovo Vibe X3
— all ambitious, but not exactly premium-tier devices. The Snapdragon 808 is a bit like the Snapdragon 810 in chains, running six cores as opposed to eight, limited to LPDDR3 RAM support, and equipped with an Adreno 418 GPU that's presented itself as pretty modest in actual use.
Regardless, the Snapdragon 808 is a competent SoC. It has two Cortex-A57 and four Cortex-
A53
cores, operating at a 2GHz maximum speed. It's also got a built-in X10 LTE modem that supports download speeds of up to 450 Mbps. The graphics unit isn't very impressive in how it handles complex 3D games, for older Snapdragon 805-based devices managed better and more consistent framerates, but it does have support for hardware-based video playback at 4K resolution. The chipset also includes Qualcomm's Quick Charge 2.0 tech for faster charging times, and a pair of image signal processors to make the most of whatever camera sensor is handling photography.


Carrying a single nanoSIM slot, the Nexus 5X is also equipped with 2 gigabytes of LPDDR3 RAM, which doesn't make for a substantial upgrade over the original Nexus 5, but should be enough for comfortable usage and multitasking. Then again, there are 3GB or even 4GB RAM smartphones already on the market, so the Nexus 5X isn't particularly impressive with the amount and type of RAM memory it's got. Speaking of memory, the Nexus 5X is available in 16GB and 32GB variants with non-expandable storage. Nope, there's no microSD slot on this phone, neither a removable battery.

Overall, Google and LG's choice of SoC is sensible, given the Nexus 5X's reasonable price point and "mass user" appeal. We expect this smartphone to be an excellent daily driver that runs the latest Android smoothly enough, but lacks the processing muscle to handle "power user" apps and complicated multitasking.

Finally, the battery unit that powers this whole contraption is of 2700mAh capacity. It should be sufficient, considering the Snapdragon 808 SoC is pretty efficient. The original Nexus 5 too employed a reasonably efficient CPU for its time, the Snapdragon 801, but the 2300mAh unit definitely sold the smartphone short, resulting in unfavorable on-screen time. Hopefully, the 17% increase in battery capacity and Qualcomm's technology will lead to an improvement in this important regard.

Speaking of battery, the Nexus 5X comes with a USB Type-C port and fast charging technology, which sounds like two bold steps in the right direction.

The Nexus 5x supports the following LTE bands: B1/2/3/4/5/7/12/13/17/20/25/26/29. With its Qualcomm modem, the smartphone is compatible with carrier networks worldwide.
Fingerprint scanner

The Nexus 5X is one of the first two Nexus devices to ship with a built-in fingerprint scanner. Positioned on the rear panel, right below the camera, the circular unit supposedly takes "less than 600 milliseconds" to recognize your fingerprint pattern, which would make for a pretty seamless experience if true! The sensor is available for integration with third-party apps via Android 6.0's fingerprint security subsystem, so hopefully, we'll be seeing some finger-scanning action on Android outside Google's native applications in the near future.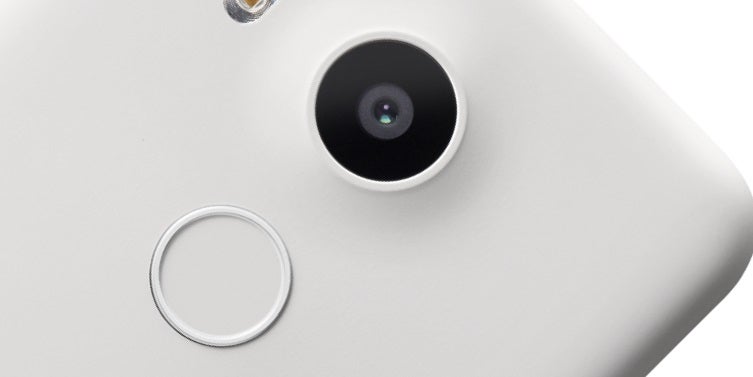 Camera
Google and LG's choice for a camera setup is certainly interesting, for the Nexus 5X features an "unprecedented" f/2.0 12.3MP Sony camera sensor on its rear panel. The component in question is, most likely, the Sony IMX377EQH5, which is a sensor originally made for camcorders. This piece of tech is supposed to eat the original Nexus 5's 8MP camera alive, for it comes with improved optics and super-sized 1.55 micron pixels — not as large as HTC's UltraPixel sensor (2 microns), but certainly larger than the 1.2 micron pixels in current camera sensors. This should help it capture more light in dark shots, making pictures better exposed and less noisy. We're yet to see credible night time samples, however, so take this assumption with a grain of salt.
In addition to 12MP (4:3) or 9MP (17:9) still images, the sensor is capable of producing 4K videos, along with impressive 120 FPS slow-
motion
clips. The sensor can actually handle 4K and 2K video resolution recording at 60 frames per second, but Qualcomm's current chipsets, including the Snapdragon 808 used in the Nexus 5X, only go up to 30FPS.


The camera sensor is kept company by a laser autofocus system and dual-LED flash. The former will most certainly make for impressive auto-focus speed, while the latter will help the camera make the most out of situations where light is of insuficient quantity.

On the front side, there's a 5MP camera with f/2.2 lens, which makes for a substantial upgrade over the Nexus 5's 1.3MP selfie snapper.



Conclusion

At $379 for the base model, the Nexus 5x isn't the single most impressive smartphone this kind of money can buy, but the device seems cleverly spec'd out and engineered to deliver the full potential of Android 6.0 Marshmallow to the masses. Moreover, we like how Google and LG took the idea of reviving the original Nexus 5 as far as it could reasonably go. However, we feel that Google and LG could have been a bit more imaginitive with this project, showing off some innovative alien technology that no other smartphone on the market replicates. But that will happen some other time, it seems.




Anyway, the Nexus 5X is arguably the perfect upgrade for those who've been holding onto their Nexus 5 and couldn't find a smartphone that holds up to its standards. We're also very curious about how the 5X's 12.3MP camera will stand up to the ones on the Sony Xperia Z5 and the Moto X Play and Style, all three of which utilize some of Sony's best and most current imaging technology. Time will tell, right?